GUCCIFEST is the event wanted by Alessandro Michele that spreads the cards of communication and touches the individual deeply. We are complex universes that seek contact. By accepting our diversity, opening the doors to others, through the gift of kindness we finally become social beings, better beings, beyond conventions. The strong suspicion that Alessandro Michele is not communicating in order to sell but that through sales he is financing his urgency to reach others, to change things.
He continues in his stubborn desire to guide a new thought that brings together a few but essential cornerstones: acceptance, self-determination, the environment, the protection of the world's artistic heritage, imagination as an instrument of happiness and not escape, freedom, of children, adults and old people. Without pretence he uses luxury to unhinge the schemes and bring together individuals no longer divided by the economic barrier because the GUCCI style already exists, it is enough to express oneself freely.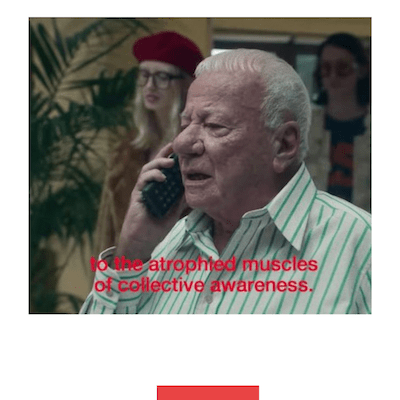 And so the FAKE is overcome by always new inventions, the result of the observation of Reality. The metropolitan contexts are absorbed and returned to the outside world after being brought together with Beauty. in every place there is Beauty.
A skater in a metropolis, a queue at the post office, a girl with hard features at the mirror, a person with an indefinite genre and maybe for this reason even more centred in the "real": all this approach to Art, contemplation, music, experimentation and classical music has the powerful effect of freeing us through suggestions, always kind… because kindness, sharing is always the subtitle to this original language. That of GUCCI according to Alessandro Michele.
We have chosen Episode 6, a hymn to the hope of giving ourselves, of encouraging ourselves, of understanding each other, but they are all splendid, imaginative, poetic and exciting.
#vintageboutique #gusvansant #urbanbeauty #alessandromichele